61 LAKESIDE DRIVE . BEMUS POINT, NEW YORK . 14712 . 716-386-7000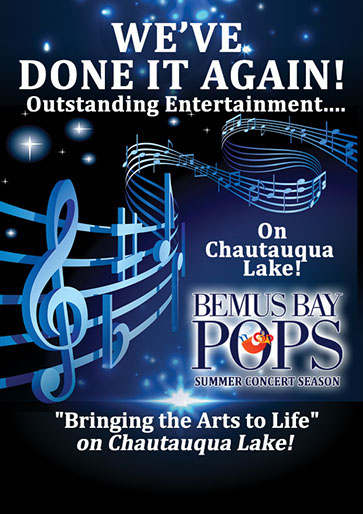 THE BEMUS BAY POPS CONCERT SERIES
Over the last 19 years - The Bemus Bay Pops Concert Series has evolved to World Class proportions to include world class acts of all kinds and attracting a wide variety
of audiences.
There's something for everyone - from The Choice,
Lake Night at The Movies, Nationally acclaimed concerts featuring only the best musical entertainment in the
country and so much more!
The Bemus Bay Pops Concert Series draws record crowds and entertains thousands in the Bemus Bay Area. They have become a musical tradition in Bemus Point attracting crowds from all ages and providing quality
family musical entertainment!